---
OPEN SOURCE INDICATORS
March 2 — March 7, 2016
Presented at SPRING/BREAK Art Show
Bill Adams
Michael Assiff
John Gordon Gauld
Ignacio González-Lang
JODI
Barbara Kruger
PRESS RELEASE
NEW YORK — This exhibition was curated by Seth Sgorbati for the SPRING/BREAK Art Show - Room #3102.
Open Source Indicators refers to an American research program by the Intelligence Advanced Research Projects Activity (IARPA) under the direction of the Office of the Director of National Intelligence. The program's goal is to parse mass public data as a predictor of significant societal events.
Barbara Kruger—an early adopter of the public domain image, as seen here in a pre-digital 1987 'paste up'—curated a 1988 exhibition at the Museum of Modern Art titled, Picturing 'Greatness.' On display were 39 black and white photographic portraits of artists from the museum collection, along with floor-to-ceiling wall text by Kruger presented in the middle of the museum gallery. The text acted to demystify the role of the artist as presented in the surrounding pictures: "…others feature the artist as a star-crossed Houdini with a beret on, a kooky middleman between God and the public."
Roger Kimball wrote a review of Picturing 'Greatness'—along with two other concurrent exhibitions—for The New Criterion titled, Is MoMA Attempting Suicide? To Kimball, Picturing 'Greatness' marked a clear and uncomfortable delineation in the perception of images and their potential structural meaning: "What does it mean that the Museum of Modern Art should cheerfully support an exhibition based on principles that, if taken seriously, would mean the end of its existence as a guardian of high culture and, yes, of artistic greatness?"
***
At times we realize the world is not seen in the same way that we previously understood. The popularized image is now user-generated and no longer the sole domain of marketeers. Meaning is now sourced as a collective understanding through the creation of tacit visual clues, and group acceptance—equally democratized as it is hermetic. Artworks presented here, hint at gradual shifts in the visual perception of imagery and their meaning, experientially modified by digital presentation, open source access, and easily facilitated reproduction.
There is strange specificity to a facial expression that is ambiguous enough to be chosen as backdrop for a popular internet meme. This phenomenon is paralleled by Bill Adams in a portrait that blurs the line between abstraction and figuration. Facial features that move towards desktop icon or emoji are depicted with an economy of color, stroke and shape.
Environmental activism is the underpinning to the work of Michael Assiff. Printed on a vent cover are images relating to American multinational agro-corporation Monsanto, Argentine environmentalist Sofia Gatica, and submerged data cables that are the physical world-spanning connections of the internet. The columns of vents mimic the columns of HTML website programming. Printed onto a real-life object, the images are removed from the digital, humorously juxtaposed with verb "vent." Presented outside of a computer or phone, actual outrage and activism conjure a relationship with imagery of a call to arms. Visually broken up by the perforations in the molded vent cover, and seen cohesively from only one angle, a feeling of permanence and transience is depicted.
John Gordon Gauld—whose practice is defined in part through contemporary still-life painting—sees the artistic act of choosing what objects and images to group and depict as a vital condition of contemporary digital life as much as it was in the 16th through 18th centuries. This reinforces a cyclical understanding of image as symbol or icon. Here, he reproduces Jean-Baptiste Oudry's Le Sérail du Doguin (1734) shifted slightly on the prepared support. The various meanings of painted iconography—satirizing the political entanglements of the Ottoman, Persian, Spanish and French empires—are lost without specific knowledge, what is left is a painting of dogs and cats, one that is easily copied, posted and shared.
Ignacio González-Lang pairs internet images with fragmented, yet cohesive texts culled from archived clippings of the New York Post's Weird but True column.  The texts, composed through 'the cut-up technique' also used by the Dada artists, are 'big data' at arms length, suggesting with absurdist humor, a more profound understanding of the world through randomized connections.   The images and texts are then etched by a laser onto clay panels.  Embodied through these works are various printing techniques used to record information: marks on clay (ancient), newsprint (increasingly outmoded) and laser (present and future technology).
The ongoing process of simplification and readability of the desktop icon and purity of user experience of a Mac OS X desktop is upended by net art pioneers JODI. What appears to be an operating system highjacked by a computer virus, is in actuality the recorded frenetic movements of the computer user. Created is the chaotic opening and closing of windows and the repetitive typing of nonsense text. The actions all narrated by disorienting text-to-speech audio. There is, of course, anxiety underlying all of this.
EXHIBITION ARTWORKS
---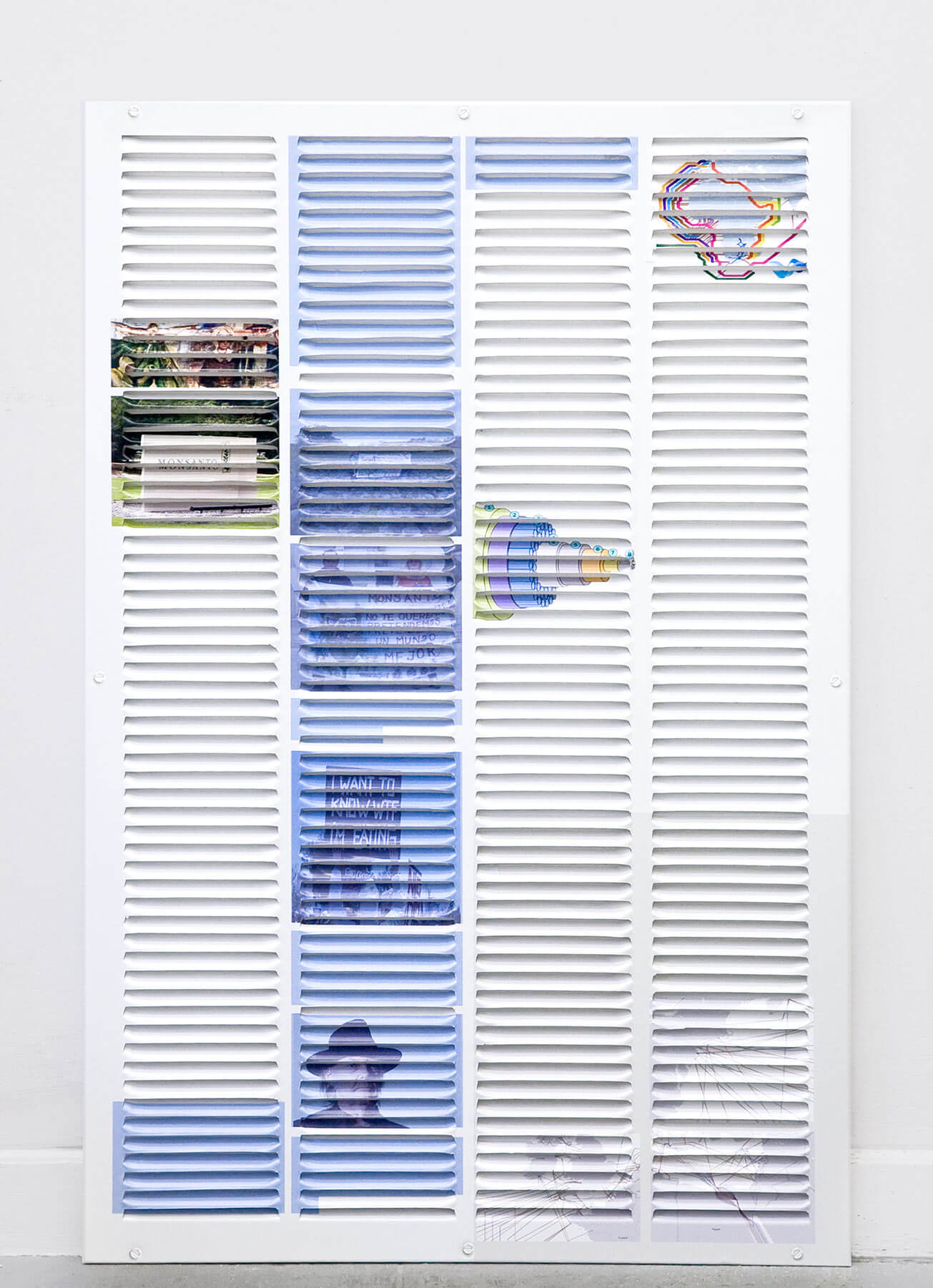 Michael Assiff
Vent (The Monsanto Years, Sofia Gatica, Submarine Cables), 2014
32.75 x 22.75 Inches
ink, vinyl, steel
Ignacio González-Lang
Good News, 2013
16 x 12 inches
18 x 14.5 inches (framed)
laser on clay, board
edition : 1 + 1AP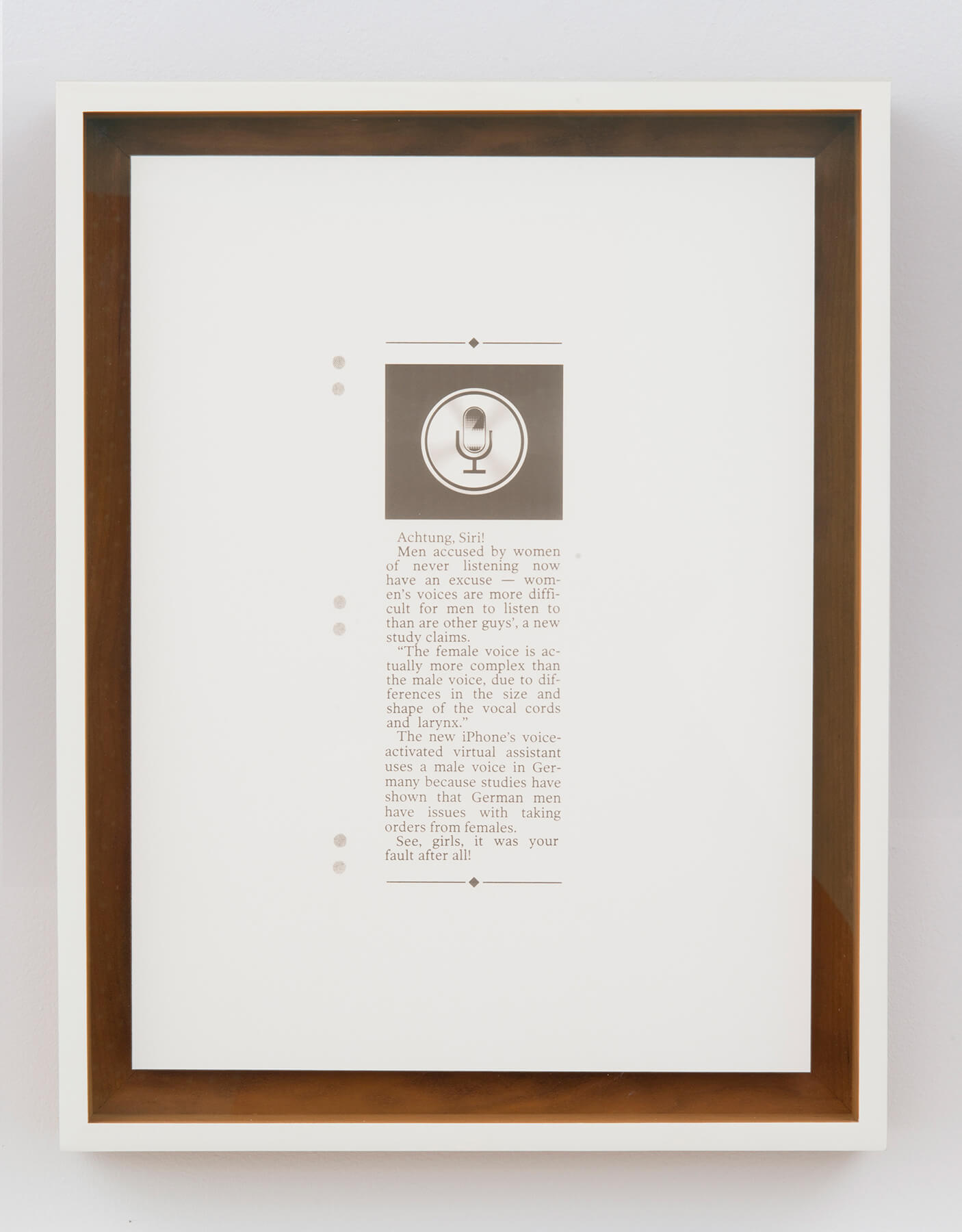 Ignacio González-Lang
Girls, 2013
16 x 12 inches
18 x 14.5 inches (framed)
laser on clay, board
edition : 1 + 1AP